Undisciplined!
November 30th, 2014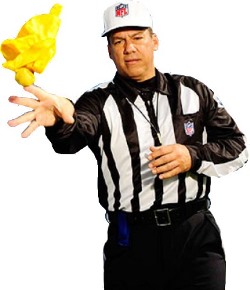 You want penalties? You like penalties? Well, one team you need to embrace is the Bucs.
Now 2-10, the Bucs are the fourth-most penalized team in the NFL.
Entering today, the Bucs averaged 8.1 penalties a game per TeamRankings.com. Of course, the teams with more than the Bucs are all playoff bound (Seattle, New England, Denver).
For a team like the Bucs who play for turnovers and keeping the game close, penalties are harsh.
Simply put, the Bucs are not nearly a good enough team to survive a rash of penalties. Today they had 13 for 94 yards. Thirteen!
The penalty that sunk the Bucs was, just when it appeared the Bucs had the ball well within Patrick Murray's kicking range and a victory in the final seconds, the Bucs were tagged with 12 men on the field.
This is simply unacceptable. Do the Bucs not practice a two-minute drill? Are the players not taught who should be in the game and who should not be given the groupings? It is called situational football.
This goes back to coaching. Coaches instill discipline. There is no discipline on this team.
Josh McCown seemed to imply wide receiver Robert Herron was the man who was supposed to be on the sidelines. Yep, a rookie.
Unlike the Seahawks, Patriots and Broncos, the Bucs simply don't have the firepower to overcome all of these penalties. That's not Lovieball.