Trading Martin = Playing Martin
November 23rd, 2014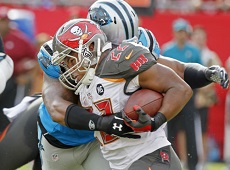 Darn good chance Doug Martin is active and playing today against the Bears.
His ankle is in good shape. He practiced all week. He sounded happy and ready on his radio show. And there's motive.
Some rumors of the Bucs entertaining trading Martin before the late-October trade deadline were legitimate. And Joe suspects those won't disappear this offseason.
Martin's expensive fifth-year option on his contract won't be exercised by Tampa Bay. That wouldn't make sense. So next year would be the final year on his deal.
Bobby Rainey appears to be a better football player, and Charles Sims is the apple of the regime's eye.
If Martin can fetch a draft pick, then he's likely a goner.
But to command value, Martin is going to have to have a good game, something he hasn't had more than a year.
He's got to show something real on the field through the final six games. Joe's unsure whether Martin will get that shot today in the rain and slop in Chicago, but he might. If not, he should get plenty chances at some point.
Trading Martin for anything meaningful will require Martin performing. Nobody's going to pay handsomely for his ancient (2012) performances.