THE OPTIMIST: McCown Follows November Rule
November 22nd, 2014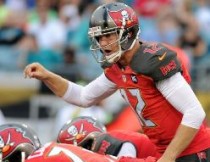 In these unsettled times of devastating Bucs losses, constant change and growing pains, Joe thought it would be wise to bring back THE OPTIMIST.
THE OPTIMIST is Nick Houllis, a Bucs fan and an accomplished writer whose steadfast allegiance to the Buccaneers goes back to the 1970s. Houllis is the founder, creator and guru of BucStop.com, a place Joe goes to get lost in time via Houllis' stunning video collection.
THE OPTIMIST will shine that positive light in your eyes. Some will love it. Some won't. … Of course, THE OPTIMIST's opinions are his alone and are not influenced by Joe.
Maybe, just maybe, he is ready to give up deep dish pizza for Digiorno. Possibly, just a chance, he is ready to stop dining on the Italian Beef with Giardiniera peppers for a Tampa Cuban. Could it be, we're finally going to get the 2013 Chicago version of Josh McCown?
Brother Luke played a stint here in Tampa Bay, and had a fantastic victory against the Saints in 2007 (29-of 37, 313 yards, two touchdowns), in which he completed 15 straight passes to start the game. But we got Josh.
Nobody was ecstatic when the elder McCown signed a two-year deal in March after good backup stints and a breakout year in 2013. Bears QB Jay Cutler went down and McCown won games and had 13 touchdowns and…wait for it..one interception.
In the half of last season he played, McCown threw one pick, delivered 66.5 percent passing, 226 yards a game, and 21 plays of 20 yards or more. Heck, by now you can probably recite these stats by heart, because you've gone over them with a fine tooth comb trying to figure out where that guy went!
It seemed like we got the career backup guy instead — until Sunday, Nov. 16, that is.
Lovie did say football starts in November didn't he?
Josh McCown started something alright, he may have started a playoff race thanks to the Buffoonery of the NFC South teams in Atlanta, Carolina and New Orleans.
While those teams seem to be either freefalling or playing uninspired football, the Bucs have been slowly improving on both sides of the ball. Players who are not buying into Lovie's Tampa-2 are being jettisoned either out the door (Mark Barron, Jonathan Casillas) or to the bench.
Michael Johnson may have gotten the message; he "appeared" and had one of his best games of the season now that he is "healthy." But here comes the million dollar question: can it be sustained?
Jacquies Smith and Bradley McDougald are a couple of guys buying in, and everyone is happy with the product: if it continues.
Consistency is the key in the NFL. If you've got it, the score next to your team's name is usually greater than the other guy's.
But it all falls back to No. 12, who has completed 64 percent of his passes since coming back to the starting job, good four 589 yards, four touchdowns and two interceptions, and a 137.5 QB rating in the last game.
If he plays well, the Bucs will win. And face it, the beer is colder and the steak tastes better after a victory!