The Bucs' Path To The NFC South Title
November 17th, 2014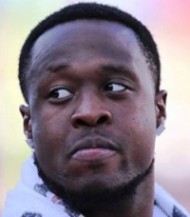 Joe's not about to urinate on the diehard Bucs optimists out there.
So for those ear-to-ear grinning folks, Joe has crunched all the options and found the Bucs' clear path to this year's NFC South crown.
First, wipe it out of your brain that the Bucs would win any tiebreaker with a division foe. It's just not going to happen. So with that stated, the Bucs' best shot of postseason glory is winning the division outright with a 7-9 record.
Atlanta, now 4-6, has remaining home games against Cleveland, Arizona, Pittsburgh and Carolina, plus road games at New Orleans and Green Bay. Joe's giving them two wins — against Cleveland and Carolina. That sure seems reasonable. Final record: 6-10.
New Orleans, now 4-6, has three home dates left: Baltimore, Carolina and Atlanta, plus a likely frigid December night game in Chicago, another cold-weather date in Pittsburgh, and their season-ender in Tampa. Joe's giving them two wins, home against Carolina and Atlanta. Final record: 6-10.
Carolina limps into its bye week now at 3-7-1. It's stunning that their defense has nosedived from second in the NFL last year to the bottom third of the league in most categories. They've got road games remaining in Minnesota, New Orleans and Atlanta, plus home games versus the Bucs and Cleveland. Joe's going to give them two more victories: on the road against the Vikings and home against Cleveland. Final record: 5-10-1.
In this scenario, the Bucs must win five of their remaining six games to win the NFC South. The Bucs have three winning teams left on their schedule (at Detroit, home for Cincinnati and Green Bay, and three losers (at Chicago, at Carolina, and home for New Orleans).
Joe's hardly suggesting that the Bucs will pull off a miracle, but as long as its in reach, it's worth noting on this victory Monday.
This might be your last week to legitimately fantasize about postseason glory, so enjoy it, if you're into that kind of thing.
The real crazies will even take the dreaming a few steps further, thinking about the Bucs probably hosting and beating the Packers with the home playoff game they'd earn, a Packers team the Bucs would have edged in December to get to the playoffs. Then the Bucs would fly to overachieving Arizona and beat up Drew Stanton for an old school Bucs win. Next would be a trip to Philadelphia for the NFC Championship game, completing the whole Lovie Smith-Father Dungy fantasy started when Lovie was hired.