Ronde Knows
November 29th, 2014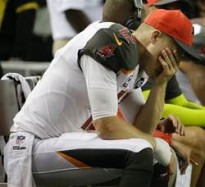 Bucs icon Ronde Barber often joins his twin brother on national CBS Sports radio to talk football.
Joe must say, Barber is much improved as an analyst, as he climbs the FOX ranks as a game color man.
Though it was depressing for Bucs fans to hear Barber talk last week about how he considers St. Louis the up-and-coming team in the NFL, it was more painful to hear Barber passionately express one of his golden rules of modern football.
"If you don't have a good, beyond serviceable quarterback in this league, you're not going to win consistently," Barber said.
One thing Joe was not thankful for yesterday was the Bucs' quarterback position. They don't have a "beyond serviceable" QB.
Joe hopes Team Glazer is as bitter as Joe is about that fact. The Bucs could have spent this season developing a quarterback. Instead, they tried for a Christmas miracle that turned into a September stink.