Pros And Cons Of QB Change
November 7th, 2014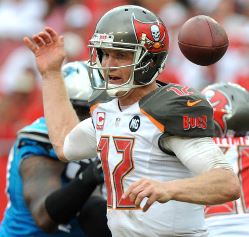 Though Lovie Smith may argue to the contrary, for Joe, the benching of the quarterback of the future Mike Glennon for turnover-prone journeyman Josh McCown is a move reminiscent of the French army in 1940.
Surrender!
Look, what the hell is the point of that unless Lovie has also given up on Glennon. Right now, Lovie's words are growing hollower by the day.
Like others, Tom Krasniqi and Ronnie Lane of WDAE-AM 620 shared thoughts on the move and their discussion turns heated with name-calling an insults lodged at each other. You can catch the duo weekdays from 9-noon on WDAE-AM 620.