Pawlowski: Is Lovie Foolish Or Lying?
November 6th, 2014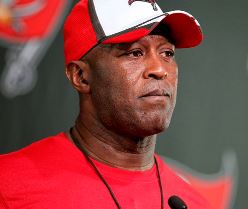 Joe just wanted to do a facepalm yesterday at One Buc Palace. It was bad enough that the quarterback of the future and quarterback of the past is no longer the quarterback of the present (again). Then, Lovie told the Atlanta press corps Mike Glennon was "great."
What. The. Hell?
One man fed up with Lovie's shenanigans is Joe's good friend Justin Pawlowski, "The Commish." The former Buccaneers Radio Network voice banged out a story for Scout.com that insinuates either Lovie has been caught in a con or he simply doesn't know any better.
As soon as the news of Mike Glennon's benching was released by Glennon himself, it was easy to speculate that Glennon's future as the Bucs quarterback of the future was in doubt as well. What quarterback of the future for any team gets benched twice within a calendar year? That's what Lovie has done to Glennon despite what his words might say.

This is hard for me to grasp. The Bucs are 1-7 with any shot at post-season play a laughable proposition. Why would you turn back to a 35 year old career backup QB to be your starter when you can gain more experience for your supposed "quarterback of the future?" Honestly, it makes no sense.

Sorry coach, but Bucs fans are getting tired of you insulting their intelligence. If Mike Glennon is truly your quarterback of the future, then you are being an absolute fool by not playing him to let him learn through mistakes while gathering experience. If Mike Glennon is not your future, then just focus on who starts currently and drop the whole "quarterback of the future" crap.
Either this is some elaborate ruse by Lovie — the motivation behind it, Joe has no earthly idea — or Lovie doesn't know any better.
If it is a ruse, to what end? No, the whispers Joe hears seeping out of One Buc Palace are that a quarterback is not foremost in the team's draft plans. But that is not factoring what Team Glazer wants. Finding that out, well, you'd have better luck breaking into the Kremlin.
As Joe wrote yesterday, it's not like Team Glazer never ordered the drafting of a quarterback, and heads seemed to roll when said orders were not followed. The franchise has never been the same since.