One Dimensional O-Line Was Good Enough
November 16th, 2014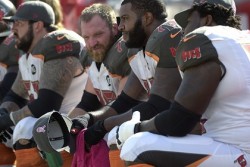 All offseason, Joe wrote about how the Tampa Bay offensive line was being built to pass block but it was hard to imagine them as punishing run blockers.
Anthony Collins? Pass blocking was his major strength in Cincinnati.
Center Evan Dietrich-Smith was busy keeping Aaron Rodgers upright in Green Bay.
Demar Dotson has never been much in the running game.
Then the Bucs traded for Logan Mankins, a notorious Patriots run blocker, but he hasn't showed that ability here.
After 10 games, it's clear the Bucs' offensive line is a one-dimensional unit. Today, in the 27-7 drubbing of the Redskins, Bucs running backs had 18 carries for 40 yards. That's heinous, especially considering the Bucs were playing with a lead and were effective in their passing game.
Bobby Rainey had five carries for four yards. Rookie Charles Sims churned out 36 yards on 13 carries. Injured Doug Martin? He's been totally ineffective this season. Mike James is averaging less than two yards per carry.
This morning, former Bucs tight end Anthony Becht was animated on WDAE-AM 620 calling for the Bucs' O-line and de facto offensive coordinator Marcus Arroyo to repeat exactly what they did in the first half against Cleveland. That was the last time the Bucs had a competent rushing attack. Before that, it was in Week 2.
At this point, it seems the Bucs likely need to pass to set up the run. Why not more slant passes? If the running game hasn't jelled organically at this point, it's unlikely to appear this season.
Today, being one dimensional was more than good enough, but that can't sustain itself.