Marcus Thigpen Fumble A Good Call
November 16th, 2014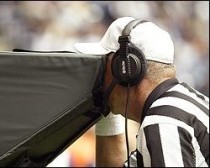 Early in the game, Bucs punter returner Marcus Thigpen botched a Redskins punt. It could have been disastrous but the Tampa Bay defense held and a missed field goal by the Redskins allowed a deep sigh of relief.
The fumble was questionable enough that the Bucs screamed for a review. A review that never came. Per FOX rules guru Mike Pereira, only a replay official can decide to review the play. A coach cannot challenge the call.
Pereira explains in this FOX Sports video.
Was the result of a first half punt play in #TBvsWAS reviewable? Via: @kfc https://t.co/rhxhqzdCf0

— Mike Pereira (@MikePereira) November 16, 2014