No More Dreads For Davin Joseph
November 22nd, 2014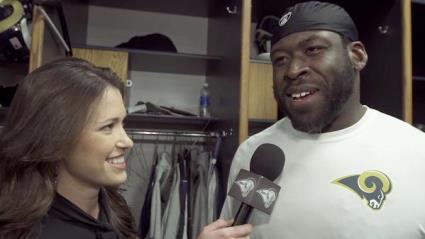 Joe received an interesting story in his e-mail box recently from noted St. Louis-based NFL writer Howard Balzer. While Balzer is a national football writer, he hangs out a lot at the Lambs facilities because, well, it's in the same area he lives.
Rams starting guard Davin Joseph (who still calls Tampa home) was a popular Buccaneer for years– partly because he was a No. 1 pick, partly because of all the good things he did for folks in need, in particular, Tampa Bay high school football programs that received money from his foundation.
The Bucs offensive line giving away turkeys at One Buc Palace to needy folks for Thanksgiving? That was started by Joseph.
Everyone associated Joseph with his dreads. Well, they are gone. Joe will let Balzer explain what happened.
Right guard Davin Joseph received a game ball for his play against Denver, and then arrived for work Wednesday minus the extremely long dreadlocks he had since high school. It was difficult to recognize him.

Joseph turns 31 on Nov. 22 and said, "I'll be 31. It was time for a change. But it feels pretty naked."

He decided Tuesday to have it done and when asked if he closed his eyes during the process, said laughing, "I was told not to look until it was over."

Joseph did not practice Wednesday and it was listed as non-injury related. Perhaps he was getting accustomed to the new look and had to get an adjustment on his helmet because of the lost hair.
Well, Joe hopes Joseph recovers in time. Joseph has been a key element with the Lambs' offensive line. Joe sure wishes he would have received a shot under the Lovie administration.