More Evidence Of McCown 2015
November 22nd, 2014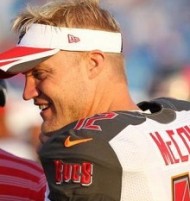 Lovie Smith admits the Josh McCown seen in Washington was the quarterback he envisioned back in March, when Lovie was quick to move on McCown with Team Glazer's checkbook.
McCown has looked the part — for the most part — since returning two Sundays ago.
Speaking in his exclusive pregame chat with Scott Smith of Buccaneers.com, Smith raved about McCown doing more than just what Joe referenced above. Lovie seized a chance to praise McCown's leadership, specifically his role in "keeping the group up."
Yes, doom and gloom can infest a losing locker room. There must be a driving force to pull a team out of it.
The Bucs couldn't do that in 2011, losing 10 straight after a 4-2 start. Somehow, it seemed the leader of the New Schiano Order marched the Bucs to a 4-4 record in the second half of last season following an 0-8 start.
Lovie appears to be counting on McCown to be the driving force of this year's Bucs.
As much as Joe wants to will the Bucs to draft an elite quarterback prospect in April, does anyone really think Lovie would bench his team leader, if the Bucs can build even a little momentum through their final six games?