McCoy Quietly Marches To Double Digits
November 24th, 2014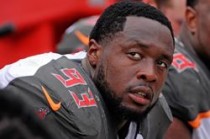 Now is the time of year when fans of sorry losing teams must find silver linings and nuggets to help them sleep at night.
Gerald McCoy has 7 1/2 sacks.
But that impressive total through 9 1/2 games played by McCoy gets lost in the flush of a 2-9 record. Rightfully so.
Joe, however, is here to soothe fans and provide peace.
McCoy is having his third consecutive excellent season. Last year, he just missed the 10-sack mark, finishing with 9 1/2. Man, McCoy sure wanted those double digits.
Joe suspects McCoy won't talk about individual numbers in light of his team's performance this season. But Joe's sure McCoy wants to hit the mark.
With five games to go, he should get it. Joe's pulling hard for him. Get it all done on Sunday, Gerald.
Joe just hopes McCoy's career doesn't go the way of Paul Gruber, working like a champ for a lasting pretender.