Lovie's Goal: McCown In 2015
November 8th, 2014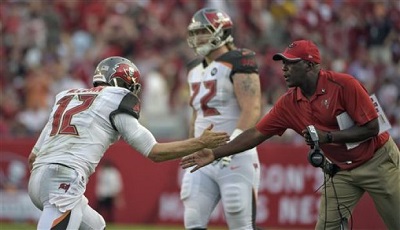 With the second half of the season here and Lovie Smith returning to his handpicked quarterback with loads of optimism and talking about being "still in it," one thing is crystal clear: Lovie wants Josh McCown to be his starting quarterback in 2015.
Why else would Lovie go back to McCown?
Yes, Joe's written countless times since Sept. 21 that the McCown era should be over following three starts that proved he doesn't protect the football, makes high-school decisions, can't lead a team to play for him (Bucs didn't show up in Atlanta on national television), and his own coach took the ball out of hands against the Rams. Remember those eight consecutive red-zone runs?
But Joe's primary reason to bounce McCown back in mid-September was the Bucs' 0-3 record with two home losses and three conference losses. That was the end of the season — and the end of the experiment.
But McCown is back. For Lovie, McCown represents his last shot to stay the course, aka win with a low-paid veteran he trusts, versus developing a rookie quarterback, something Lovie has never done.
The easiest thing for Lovie is to have McCown, 35, succeed in the second half of the season with Marcus Arroyo. Maybe the Bucs put up a 4-4 record in the second half, much like Greg Schiano did last season. If the Bucs can move the chains like an average football team and the "Dunkaneers" show signs of life, then Lovie can play status quo and keep building his beloved defense this offseason.
Joe hates the thought of this because Joe does not believe the Bucs have a shot to win anything significant, let alone a Super Bowl, with McCown. He's a great guy — and a terrific waste of time. Can we please draft a QB with "franchise-QB" potential, like we should have in May?
Regardless, this is Lovie, a guy handing a 1-7 team to his favorite QB, the guy he wants to hand the ball to in April, when the Bucs return for spring practice.