Lovie's Confidence Rating Dips To 50%
November 28th, 2014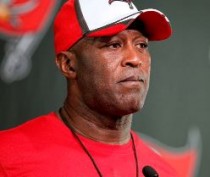 Sunday's meltdown in Chicago did little to erode fans' confidence in Lovie Smith.
Perhaps it's the recurring signs of defensive improvement?
After stabilizing with a confidence rating of 32 percent for two consecutive weeks, readers elevated their opinion of Lovie to a 59 percent confidence rating last week. This week, he checked in at 50 percent.
Polling data of JoeBucsFan.com readers yesterday saw a shift in various opinion analytics on the head coach.
Totally confident: 5.5 percent
Very confident:    8.8 percent
Confident:            35.7 percent
Little confidence: 31.6 percent
No confidence:       18.5 percent
The most significant change from last week was in the "no confident" category, nearly doubling from 9.6 percent.
Joe thinks this shows Bucs fans are being pretty darn patient with Lovie. Not a lot of first-year NFL head coaches could go 2-9 in the way the Bucs have, yet still have half the fans in their corner.