Lovie Building His 2015 Hot Seat
November 30th, 2014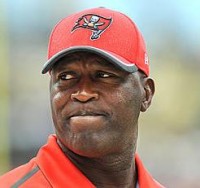 Sadly, one could craft a long list of reasons why Lovie Smith is on track to enter the 2015 season under massive scrutiny from an impatient fan base.
A veteran head coach, Lovie's Bucs team looks like it's being coached by a rookie.
"Simple as that," to use one of Lovie's favorite phrases.
The Buccaneers are terribly undisciplined. They repeat similar mistakes week after week. Coaches aren't getting through.
The regression and ineptitude on the offensive side of the ball, despite major league receiving weapons, ultimately falls on the head coach.
Time management hasn't been a strength of this regime, either.
Winless at home tells Joe that Lovie's team isn't playing and preparing with the appropriate level of urgency. First quarter boos from fans today told the story — one loud enough for Team Glazer to hear in their luxury suite. And don't think for a second that Team Glazer doesn't care.
Yes, the Bucs defense is jelling. They're improving, even without Michael Johnson producing. They're measurably better than they were in the first half of the season.
But this is the modern NFL. No head coach gets an encouraging pat on the back for a two-win or a three-win season.
The Bucs don't have that winning intangible. And the head coach isn't pushing the right buttons. They don't know how to win.
Barring a radical improvement to close this season, Lovie is going to have to find a way to craft a new offense with a new quarterback and a new offensive line this offseason, the exact task he's fumbled since getting the Bucs' top job.
Joe would love to see Lovie start winning now and avoid the inevitable pressure that will come after a two-win or three-win season — in the worst division in NFL history.