Lavonte David: Best All-Around
November 8th, 2014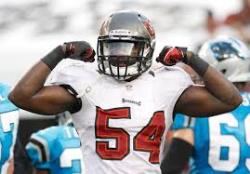 Joe gets a chuckle out of the revisionist historians that whine about how former Bucs rock star general manager Mark Dominik passed on middle linebacker Luke Kuechly and, instead, drafted safety Mark Barron. Yeah, Barron was/is a bust.
However, in the next round, Dominik traded up to get his linebacker. That man's name is Lavonte David, who Joe pimped the Bucs to draft in December prior to his selection.
Quite frankly, David may be the most dominant run-stopper of his era. Here are a few numbers to chew on: David led the NFL last year in solo tackles with 63 … in his first two NFL seasons has 283 tackles … and this season leads the NFL in run-stops for outside linebackers with 53.
Who talks about his pass coverage (besides Sean Payton)? Well, that would be Dominik. In a piece for BSPN.com, Dominik broke down the players with the best traits in the NFL. For linebackers in pass coverage, Dominik selected David.
Coverage: Lavonte David, Tampa Bay Buccaneers

I loved what I saw on David's college tape, and he's been an outstanding player since I selected him in the second round of the 2012 draft. He is an every-down football player because he has the lateral quickness, good feet and ball awareness to hold up well in coverage. I would always watch a player's foot quickness and speed when evaluating them for this trait.
One could make an argument David is on par and perhaps better than Hall of Famer Derrick Brooks at this point in his career, though Joe understands that is blasphemous. Joe just wishes David would get more pick-sixes, but damnit, that's nitpicking.
And for those who like to twist history, if Dominik picked Kuechly, it is very doubtful he would have traded up to get David. This is like arguing who you would pick to bed, Jessica Alba or Kaley Cuoco?