Jason Licht: "The Fans Should Be Frustrated"
November 3rd, 2014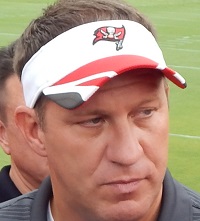 Tampa Bay Buccaneers general manager Jason Licht is not hiding.
He was out front and center this morning after yet another tough loss.
"Here at the midterm, the record at 1-7, you can't say anything but it's unacceptable," Licht said on the new Ronnie and TKras show this morning on WDAE-AM 620. "The fans should be frustrated. We came in here wanting to win while we were retooling and rebuilding this roster. It hasn't worked out that way. We're not deviating from our plan."
You can hear all of Licht via the WDAE-AM 620 audio player below.