Is Marc Trestman The Bucs' Coordinator Fix?
November 11th, 2014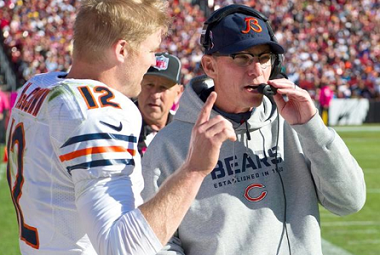 The cold reality is the Buccaneers better be damn ready to hire an offensive coordinator when "Black Monday" comes in 48 days. That's not much time.
Jeff Tedford can't be counted on, and de facto offensive coordinator Marcus Arroyo simply is nowhere near the best coordinator money can buy. Lovie Smith needs to make a change.
Back on October 14, Joe asked Lovie whether he would take time during the bye to explore a replacement offensive coordinator for Tedford.
Lovie's response? "Absolutely not!" Lovie explained that his sole focus is winning football games this season.
Well, now what?
Bears head coach Marc Trestman sure seems like an ideal potential fit for Lovie. Yes, Trestman has a head coaching gig, but the growing consensus is he'll be fired after the season, as the 3-6 Bears are circling the drain at the bottom of the NFC North.
For Lovie (not necessarily Joe), Trestman seems downright perfect. His offense suits Josh McCown, who helped guide the Bears to the No. 2-ranked offense in the NFL last season. Also, Lovie could hand over the offense to Trestman and not have to get involved. That's how Lovie likes to roll. In addition, if the Bucs do the smart thing and draft a quarterback, Trestman has a heck of a track record developing and reviving quarterbacks.
What? Keep McCown? Yes, as Joe wrote last week, that's surely Lovie's goal.
Again, the Bucs have to be ready to pounce on a new offensive coordinator in 48 days. It would be downright irresponsible to not be ready.
And if Lovie continues his McCown obsession, then hiring a guy that got McCown looking like the quarterback he never was sure makes a lot of sense.