"I Don't Take That Lightly"
November 9th, 2014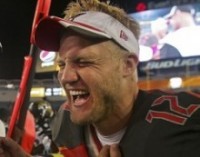 Starting quarterback Josh McCown is known to talk about his "journey," one of the more amazing longevity stories in the NFL.
Consider McCown was hired this year and given his biggest contract by a head coach who had cut him a few years prior in favor of Jason Campbell.
That's stunning, on top of finding a way to survive until age 35, interrupted by high school football coaching and more.
In this Bucs-Falcons preview by Tom Krasniqi of WDAE-AM 620, McCown says, "I don't take that lightly," when referencing his second shot at the starting job.
Joe wishes McCown well, but Joe still doesn't see the sense in handing McCown a 1-7 team with a young quarterback on the bench.