"Huge Offseason" For Mike Evans
November 26th, 2014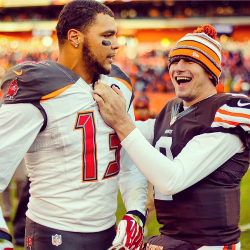 Josh McCown brought this up on his Buccaneers Radio Network show last night, and it was a fantastic point.
McCown, though not an all-time great, has played with many all-time greats and knows Mike Evans' fantastic development won't end in when the Bucs close out the 2014 season in a month.
McCown talked about how he was around the early years of Anquan Boldin, Larry Fitzgerald and others, and McCown stressed that Evans has brought the work ethic and behind-the-scenes passion — so far — necessary to maximize his elite talent.
However, the Bucs' re-starting quarterback emphasized that Evans must learn how to work year-round because the NFL has evolved into a situation where players — great players — are never really off. McCown called it a "huge offseason" for Evans.
Yes, we all saw the pre-draft video of Evans getting a little crazy outside a South Florida nightclub. Yes, we know Evans is close friends with Johnny Football. Joe has no problem with those things, but it does make one wonder what this offseason might bring for the Bucs' 21-year-old star.
Joe hopes the kid makes great decisions.
It also makes Joe wonder whether it might be a good idea to keep a guy like McCown or Vincent Jackson around to keep mentoring Jackson.
Evoking the name Michael Clayton, McCown talked about how the NFL has seen many wide receivers splash early only to sink soon afterr.
Lovie Smith's men have been well behaved this season, and Joe suspects Lovie has set an excellent foundation. But there are no guarantees.