Bucs Have Played Sixth Easiest Schedule
November 26th, 2014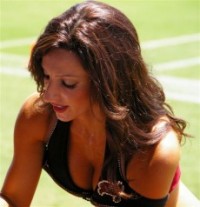 The 2-9 Buccaneers aren't used to playing good football teams.
That a little scary as they approach a tough stretch of their schedule, starting Sunday with the 7-3-1 Bengals coming to Tampa with a punishing rushing attack and a quarterback who wins plenty of games.
NFL.com compiled current strength of schedule data for all teams, and Bucs opponents have a .434 winning percentage. Only the Falcons (.430), Chargers (.430) Steelers (.417), Cowboys (.397) , and Browns (.393) have had easier schedules.
Joe's glad the Bucs have big tests ahead of them with the Bengals, Packers and Lions, plus the division games that should have playoff implications for the Bucs' opponents — at Carolina and the Saints at home.
The Bucs' improving defense will get all kinds of diverse tests, which should help Lovie Smith and Jason Licht effectively evaluate what they have — and what they need — on that side of the ball.
One good thing about the Bucs' easy schedule? Strength of schedule is the draft-position tiebreaker. If teams have the same record, the better draft slot goes to the team with weaker schedule.