Enough Already!
November 23rd, 2014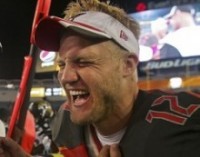 Josh McCown continues to play like a rookie quarterback. Nothing new there.
Hours after the Bucs and McCown didn't show up in Atlanta, Joe began screaming from rooftops — and WDAE-AM 620 microphones — to let Mike Glennon start the Bucs' final 13 games.
It was the only thing that made a lick of sense at 0-3 with two division losses, and a 35-year-old inconsistent QB as the other option.
It still is.
That's right. Look at McCown's six starts as a Buccaneer. He has performed like a rookie, a freakin' rookie. That is not debatable.
His ball security today in Chicago was disgusting. His decision-making was questionable, as was his management of the game. Call a timeout!
In addition, McCown was dreadful in the red zone. He was downright lucky not to be picked off throwing to Mike Evans who was quadruple covered in the end zone late in the second quarter.
He's 1-5 as a starter with all kinds of weapons at his disposal.
Can we please stop the silliness?
Don't tell Joe McCown is better than Glennon. There is no evidence. Sadly, they're similar players, and the Bucs should be playing the guy that at least has a shot to develop as a backup and potentially fetch them a decent draft pick in a trade.
You play the young player when he's on par with the old guy.
It's what smart organizations do.