Bears 21, Buccaneers 13
November 23rd, 2014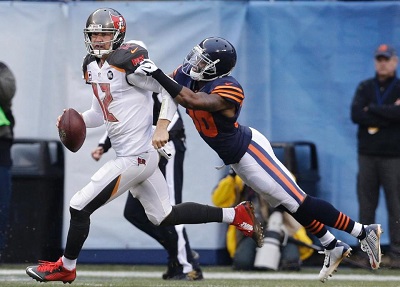 A bad running game, bad quarterback play, bad hands, and lousy special teams will get you beat just about every time out.
That's what happened to your beloved Bucs in Chicago today.
They imploded just before they took a 10-0 lead into halftime. And then got mowed down by 21 unanswered Bears points in the third quarter.
Lovie Smith's team took a step backwards, which is unacceptable. The heralded "LovieBowl" return was a toilet flush.
"Play 60," as Lovie sometimes calls it, was more like "Play 30."
On first down from the Bears' 10 yard line late in the first half, Josh McCown took a needless sack and threw two bad incompletions — one into quadruple coverage to Mike Evans. He never recovered.
The Bears are not a good football team. Coming into this game they allowed the most points per game in the NFL. The Bucs scored 13 — and their entire starting offense was healthy.
It's hard to wag a finger of blame at the Bucs defense playing without superstar Lavonte David. They pressured Jay Cutler and sacked him three times in the first quarter, forced a fumble and largely contained Matt Forte. Mason Foster, however, dropped an easy sure interception in hands, a killer of a lost opportunity.
Tampa Bay is now 2-9 — in a division that's historically dreadful.
Yeah, yeah, yeah. The Bucs are close to turning things around. Joe's heard that song a few times.