Bucs Aren't Your Typical Bad Team
November 20th, 2014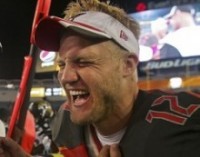 A guy in the Buccaneers locker room who's been on plenty of losing teams says this edition of Tampa Bay losers is different.
That Buccaneer is re-starting quarterback Josh McCown, who played for six consecutive losers to start his storied career (Arizona, Oakland, Detroit). In his seventh season, McCown was finally a winner when he backed up Jake Delhomme for the NFC South champion Panthers in 2008.
McCown told SiriusXM NFL Radio this week that he's been on bad teams but this years Bucs have never felt like a bad team, just a team working hard and hopeful every Sunday.
A good organization and team always has a reason to be focused, even in hard times.
"If you're not playing for the playoffs this year, you gotta be playing for it next year. You gotta be always trying to get better and move forward in that direction," McCown said. "That's the constant thing to the young guys, 'We're in this thing, first of all. But what kind of pro are you?' We learn a lot about ourselves through that. The guys that you want on your team, are the guys whether you're 8-2 or 2-8, they prepare and come to work the same way. The more guys that we can have like that the better. Sometimes you have to go through these times to kind of sift through that and figure that out."
That last sentence from McCown sure reminded Joe of Derrick Brooks talking about how Greg Schiano had to pluck "weeds in the roses." (Joe highly recommends that link.)