Blow Up The Entire Offensive Line?
November 23rd, 2014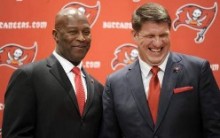 Lovie Smith is all about staying the course when it comes to his defense. Keep up the "stern teaching" and keep upgrading the roster.
"Simple as that," as Lovie likes to say.
But on offense, Lovie isn't such a simple guy.
His nine-year history in Chicago was one of steady offensive change. He never had a good offense there. Never. And building an offensive line was a consistent Achilles heel.
And that brings Joe to the hot, steamy mess that is the current Bucs offense. This was a bad Bears defense Tampa Bay faced today in a 21-13 loss at Soldier Field.
After 11 games, the Buccaneers' healthy offensive is not jelling. Joe's not sure any one of the O-line starters is even average by NFL standards. It is that bad.
Sadly, it's a veteran group. Anthony Collins and Demar Dotson are 29. Logan Mankins is 32. Evan Dietrich-Smith looks washed up at 28. Youngster Patrick Omameh, 24, struggled mightily today and might need something more than Tylenol for his growing pains.
Joe's not sure whether a Buccaneers team has ever completely blown up an offensive line in an offseason. (The Bucs nearly did that this spring when they waved goodbye to Donald Penn, Davin Joseph, Jeremy Zuttah and Ted Larsen, four guys starting on other teams.) But such a drastic overhaul might be in order, and Joe suspects a new offensive coordinator would demand it.
The Bucs are a rebuilding project. The put an exclamation point on that fact today. It's got to start in the trenches — after they draft a quarterback.