Blount Finds His Way Back To Belicheat
November 20th, 2014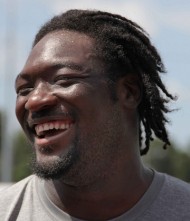 It's always ironic when a potential Hall of Fame coach (Mike Tomlin) cuts a guy and a surefire Hall of Fame coach (Bill Belicheat) signs the same guy in a matter of hours.
So goes the life of LeGarrette Blount, the man former rockstar general manager Mark Dominik and Greg Schiano booted from the Bucs for Jeff Demps and a seventh-round pick.
Yes, Joe was never a fan of Blount's intermittent me-first, immature antics with Tampa Bay. But it's not like Schiano turned Blount into a mental patient like he did others, and Blount wasn't bailing out of Hillsborough County Jail or other correctional facilities.
Schiano, of course, struggled mightily to find a kick returner in 2012, but never gave Blount a shot. Blount went on to be one of the very best kick returners in the NFL last season for New England, plus he rumbled for 772 yards on five yards per carry. And then there was that four-touchdown, 166-yard game in January.
On Monday night, Blount walked off the Steelers sideline before the game ended, pouting because he didn't get the ball. He was cut within hours and quotes from his teammates sounded like the were happy he left.
Now he's back home, where they don't mind that he's not a receiver.