Bears Fans And Lovie
November 21st, 2014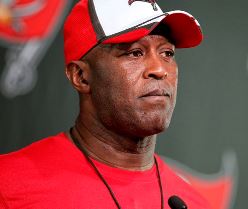 To hear from some, Bears fans mourn the day Bears general manager Phil Emery jettisoned Lovie Smith after a 10-win, 2012 season. The Bears haven't been the same since and appear to be on the verge of a meltdown under Marc Trestman.
However, a CSN Chicago panel of David Kaplan, Rick Telander and Hub Arkush seem to disagree. They're not impressed with Lovie, and they don't believe fans have special feelings for him.
Lovie is the third-winningest coach in the storied history of the franchise.
George Halas is a saintly figure in Chicago. Ditka is beloved.
Lovie? "Eh," suggests Arkush. Watch the entire conversation below.