Andy Dalton And The NFC
November 29th, 2014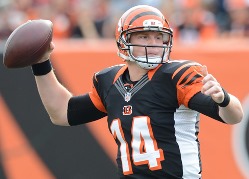 It is in season to bash Bengals quarterback Andy Dalton. No, he will never remind folks of Andrew Luck. He won't remind people of Trent Dilfer, either.
Dalton is an uneven quarterback, inconsistent. At times, he plays like one of the top signal-callers in the nation. At other times, he plays like a Bucs quarterback.
Mock Dalton if you will, but he would be a massive upgrade for the Bucs if for whatever reason, Mike Brown went Mike Brown and dispatched Dalton to the streets.
Also know this about Dalton: He owns NFC teams. After Dalton and the Bengals beat the Saints earlier this month, it gave Dalton an 11-3-1 mark against the NFC.
Dalton's three NFC losses have come by a margin of 12 points total.
So heckle Dalton if you must, but remember: the NFC is his playground.