"All Signs Point Up" For Lavonte David
November 28th, 2014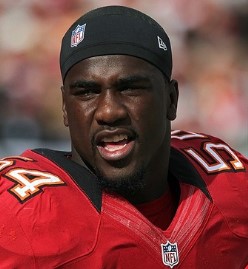 As it currently stands, Bucs stud outside linebacker Lavonte David should be ready to rock and roll Sunday against the Bengals. That's coming from the mouth of David himself.
"I am good, I am good, man," David said after practice today. "All signs pointing up and we will see how it goes from there."
Of course, Lovie Smith wouldn't dare offer that David might play. Lovie might accidentally tip off Cincinnati as, obviously, the Bengals have no tape of David on file.
David sat out the Chicago game with a gimpy hamstring. A combination of the chilly, wet Chicago weather and the notorious terrible turf at Soldier Field had the Bucs sitting David on the bench more as a precaution than anything else.
It was "very hard, man. Very hard just sitting out," David said. "First time for me, forever. Real tough for me being a competitor. I want to compete with my teammates. It was tough."
The last time David sat out a game was in high school when he played for Miami Northwestern. Like the Bucs, his high school coaching staff didn't want David playing with a minor injury.
"It was an ankle [injury] and we were playing a not-so-good team," David said. "They didn't want to risk it."