Your Fifth-Ranked Buccaneers
October 11th, 2014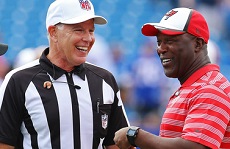 The Tampa Bay Buccaneers haven't played a lot of disciplined football this season.
Heck, Louis Murphy was even fined — not just flagged — for saying bad words, per NFL Network.
What's next? Will Mark Barron be fined for a scowl?
In all, the Bucs have committed the fifth most penalties in the NFL. That's one of the many nuggets in the solid Bucs-Ravens preview below from Bucs beat reporter Tom Krasniqi of WDAE-AM 620.
"T-Kras" goes video style. Enjoy.