"Hawk Radio" Highlights
October 11th, 2014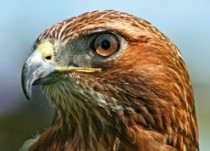 There is no more laid back, chill hour of radio than "Hawk Radio," the nickname for the weekly Dashon Goldson show with Ronnie Lane on the Buccaneers Radio Network.
Hawk and Lane are like a couple of dudes smoking good cigars and sipping cognac.
Here are this week's highlights:
*Hawk says Leonard Johnson is really a safety playing cornerback. That's more of his mentality — to hit people. Johnson has plenty of "dog" in him, says Hawk. He relayed a story he heard of how Ronde Barber advised Johnson to back off wide receiver Steve Smith because he couldn't win that fight.
*Speaking of Steve Smith, who the Bucs face Sunday against the Ravens, Hawk is no fan. He shared a story of how Smith attempted to kick him a few years ago. Hawk says he has no interest in ever sharing a cocktail with Smith.
*On Major Wright, Hawk's current replacement in the starting lineup, the word is Wright is an excellent teacher when it comes to sharing what Lovie Smith wants in his defense.
*On the Bucs' slow start, Hawk says a defense like Lovie's takes time to learn the finer points, and those details, when learned, are what win games and generate big plays.
*Hawk's a Danny Lansanah fan because of his work ethic. He says Lansanah capitalized on the mistakes of his teammates to climb the depth chart.
"Goldson named mild-mannered Lavonte David as a vocal leader of the team. "When he speaks, you know what time it is," Goldson said of David. "He's not that vocal, but he's coming along. He's gotten a lot better" as a leader.
*Mark Barron shows little reaction when he drills an offensive player, and Hawk can't understand the lack of emotion.
*He's definitely going to make it rough on some decision making," Hawk said of Mike Glennon. "When Josh [McCown] gets back right, of course, they've got some stuff to talk about." Hawk went on to rave about Glennon's mechanics and arm, and his poise since Day 1 of last year.
*Rookie Mike Evans, Hawk says, is a hard work who has settled in and is now comfortable enough to be trash-talking at practice.
You can listen to the program here.