"You Can See The Difference"
October 2nd, 2014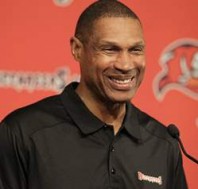 Mild-mannered Leslie Frazier was an enthusiastic guy (for him) at the One Buc Palace podium this afternoon.
It was clear that Bucs defensive coordinator is happy to have his stud horses back.
"To hold those guys to 85 yards and 3.1 yards a carry, the five sacks by our D-line, I mean, the strip-fumble, I mean you can see the difference having a Gerald McCoy, a Michael Johnson on the field, although they're not 100 percent, but just their presence helped us to make some progress on defense," Frazier said. "So that was encouraging."
Frazier seemed most frustrated by how many times the Bucs put the Steelers in 3rd-and-long situations but failed.
Right now, the Bucs are tied for ninth in the NFL in sacks. That's pretty stunning through four games, considering the injuries and the lousy start at breathing on quarterbacks.
As Joe wrote earlier this week, the Bucs still gave up the booty on defense alarmingly often against the Steelers. It was not a good defensive showing against the Steelers, but it was good enough, and great late in the fourth quarter.
On Sunday, Joe would love, absolutely love, to see the Bucs turn out their first strong defensive showing of 2014.