What To Do Now?
October 16th, 2014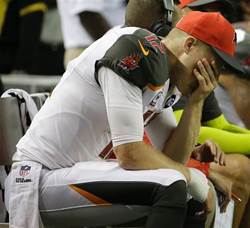 It's not even Halloween and small children are too frightened to watch the Bucs. That is how bad it has been.
Tampa Bay is not just 1-5, they are miserable beyond words. Even with guys like Gerald McCoy and Lavonte David, the defense is on pace to be the absolute worst in the 95-year existence of the NFL.
How exactly can this happen? What can the Bucs do to turn this season around?
Woody Cummings may have the answers. In this TBO.com video, the Tampa Tribune Bucs beat writer tells TBO's Olivia Stacey what went wrong for the Bucs and when to expect things to go right.