Vikings' Struggles Match Up To Bucs'
October 21st, 2014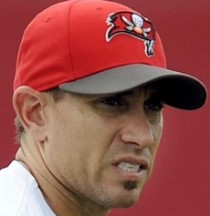 A wise ass might say that since the Vikings' defense has been so bad on 3rd-and-long this season (and 4th-and-long), they're a great Sunday matchup for Tampa Bay, which finds itself in 3rd-and-long quite often.
Yes, the Minnesota defense has been very solid but has folded at key moments.
The Star-Tribune penned a really good piece looking at the Vikings' struggles defensively, though they are in the upper half of the NFL in many defensive stats, including 13th in yards allowed. (Imagine that with a first-year defensive head coach using a brand new scheme!)
But in this instance, the one in question is the most recent one — the 17-16 loss to the Bills, the one that still had the Vikings shaking their heads 24 hours later.

Buffalo's two long-distance conversions, including their game-saving completion on Fourth-and-Forever, on the game's final drive are the most glaring instances of the Vikings not finding a way to finish a defensive stand and get off the field in a pivotal spot. And in the aftermath of the spectacular come-from-ahead loss, those struggles have put the spotlight on a trend that has carried on throughout the 2014 season.

Thirty-three times the Vikings have put their opponents in the unfavorable position of needing to pick up 10 or more yards on third or fourth down to move the chains. And on exactly one third of those plays, their opponents converted and kept a drive alive, many of those drives ended with scores.

"That's kind of been the Achilles' heel," [Mike] Zimmer said.
Yes, the Bucs will have a game on their hands Sunday. The Vikings are no pushover. Like most teams with first-year head coaches, the Vikings (2-4) are battling, but they have been blown out twice this season (New England and Green Bay).
Joe has no clue how the Bucs might respond Sunday. The only solid indicator is that they bounced back extremely well in Pittsburgh after the seal-clubbing at the hands of Atlanta. One can hope an historic beating by Baltimore will drive the same kind of focus and heart.