Trading Jackson Has Consequences
October 21st, 2014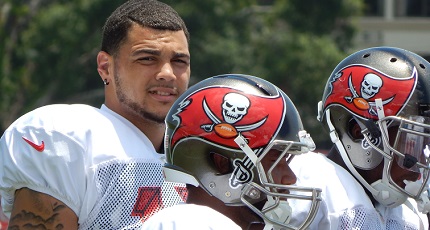 The swirling Vincent Jackson trade chatter is quite intriguing.
Would the Bucs really keep V-Drops Jackson and his eight-figure salary next year — for a wide receiver who appears to be on the decline?
Joe hardly thinks so. That doesn't seem to fit the expressed "value" interest of general manager Jason Licht.
And one must assume Mike Evans was drafted No. 7 overall because he's a true No. 1 receiver. If not, then the Bucs missed in the draft. But if they didn't miss, then a $10 million, No. 2 receiver (Jackson in 2015) is not money well spent. Throw in that Evans and Jackson are similar types of receivers, and Jackson's future is suspect in Tampa.
But is Jackson worth trading before the trade deadline, Tuesday, Oct. 28?
That depends on the offer, of course, But trading Jackson would come with consequences.
First, losing Jackson would be a terrible idea if the team is trying to see what it really has in Mike Glennon. A Jackson trade would virtually guarantee double coverage for Evans through the rest of this season, leaving September street-dweller Louis Murphy as the No. 2 receiver, with rookie Robert Herron at No. 3 — in an offense with no running game or identity. That's not an ideal scenario in which to evaluate a quarterback.
Second, given that Evans has come along so well to date, one must assume some of that is because of the example set by Jackson. Glennon talked about that on his radio show last week. Taking Jackson out of the mix now likely would hurt the rookie. It's not like the Bucs have a very experienced wide receivers coach Evans can lean on.
Again, it all would come down to the offer on the table for Jackson. Lovie and Licht should have seen enough of Jackson already to know if they want him back next season. If not, then they have to be open to dealing him.