THE OPTIMIST: Paitence Leads To Pride
October 10th, 2014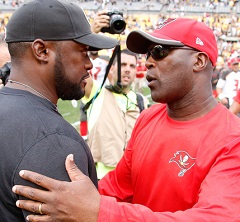 In these unsettled times of devastating Bucs losses, constant change and growing pains, Joe thought it would be wise to bring back THE OPTIMIST.
THE OPTIMIST is Nick Houllis, a Bucs fan and an accomplished writer whose steadfast allegiance to the Buccaneers goes back to the 1970s. Houllis is the founder, creator and guru of BucStop.com, a place Joe goes to get lost in time via Houllis' stunning video collection.
THE OPTIMIST will shine that positive light in your eyes. Some will love it. Some won't. … Of course, THE OPTIMIST's opinions are his alone and are not influenced by Joe.
The Bucs are a train headed in the right direction, to the right destination: But for most fans, Tampa Bay just wont arrive there fast enough!
Ring of Honor Bucs head coach John McKay was given a five-year plan to build the original Bucs.  If that were today, Social Media would have been all over him with "Dump McKay in the Bay" photos on Facebook!
Tony Dungy? He went 0-5 and 1-8 with a 1996 Bucs team with Warren Sapp on it, with Derrick Brooks, Hardy Nickerson, and John Lynch. The cries on Twitter would have been enormous!
Enter Lovie Smith, a coach with a proven track record. This is a former Bucs assistant that brought a formidable defense to St. Louis and then took it to Chicago and won with the Bears.
Let's not forget Lovie Smith had a top-5 defense only two years ago running the Tampa-2 probably as much as he's going to run it now. The game doesn't change that much in two years.
If you really think it has, then go back and watch the Super Bowl from last year, and tell me defenses can't shut down the most potent offense of all time?
But if you listen to the masses, there are already whispers calling for Lovie Smith's job! Those people need to listen up right now; YOU are the problem. You are not the solution, you are the reason the Bucs do not have the talent to compete in the NFL right now.
Raheem Morris comes in and cleans house of Jon Gruden's Players. Then Greg Schiano comes in and sweeps Raheem's players out the door. Now enter Lovie Smith and Greg's Schiano Men are gone.  Three head coaches in 6 years = no talent left on the football team.
No talent. No depth. Look at the teams with the greatest success over the last decade: The New Englands, Pittsburghs, Green Bays. Look at the teams who have coaches for a long time, and you'll find winning there consistently. Maybe a down year here or there, but consistent winning.
Pittsburgh has had as many coaches since 1969 as the Bucs have had since 2009.
Give Lovie Smith time to implement his program, give the players time to buy in, and the administration time to build up the talent base, and you will have a team that makes you proud.