Teams Want Vincent Jackson
October 19th, 2014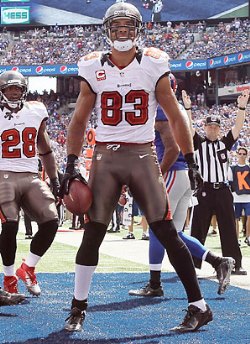 Though Vincent Jackson is still, as Joe is typing, a member of the Bucs, NFL insider Ian Rapoport of NFL.com and NFL Network tossed out an interesting but not surprising nugget about the Bucs' No. 1 wide receiver.
It seems teams — plural — have reached out to Tampa to gauge interest in shipping out Jackson, as NFL.com's Kevin Patra documents.
1) Tampa Bay Buccaneers receiver Vincent Jackson:

"They are getting a ton of calls on him," Rapoport said. "With just one win, I'm told they are open to anything even though they love him as a player."

Trading Jackson would strip down the NFL's tallest receivers corps, but perhaps the Bucs believe they have his future replacement in rookie Mike Evans.
Look, this season is toast, in case you haven't heard. Starting out 1-5 means no playoffs, not the way the Bucs are getting sandblasted by decent offenses.
Jackson has seen better days. He's becoming almost as well-known for his drops than his catches and touchdowns. Jackson is tied for fourth-most drops among wide receivers and his catch-rate (times targeted/receptions) is 55 percent.
To give one an idea how Jackson is slipping as a reliable receiver, last Sunday in the seal-clubbing by the Crows, Jackson was targeted 13 times. He caught but four of those passes. Obviously, that is not factoring in bad throws, but still, that is a terrible ratio.
If the Bucs can somehow hoodwink a team to cough up a second-round pick, Bucs general manager Jason Licht shouldn't waste a second getting approval from football operations overlord Lovie Smith for fear the other general manager might sober up before Lovie is reached.
Remember: Anquan Boldin, a better more reliable receiver than Jackson, could only fetch a sixth-round pick on the trade market.
Joe doesn't think Jackson is in the Bucs' long-term plans. If a draft pick and salary cap relief could come by trading Jackson, then Joe would listen intently to offers.
Per Rotoworld.com, Jackson two more seasons on his Bucs contract paying him $9,777,777 next year and $9,777,778 in 2016. Not a penny is guaranteed. Right now, Jackson is nowhere near a $10 million a year receiver.