"Stealing!"
October 27th, 2014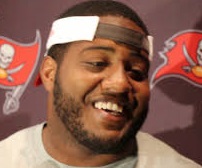 It's safe to say Bucs beat reporter Tom Krasniqi is no fan of Anthony Collins.
Krasniqi, who will debut a new weekday show with Ronnie Lane one week from today on WDAE-AM 620, gave readers a taste of his passion during a Bucs postgame show last night.
Joe heard this screaming, intense take and had to share.
"Speaking of awful. Oh, my God. Anthony Collins has to be the worst starting left tackle in the National Football League. He's terrible," Krasniqi bellowed. "Everson Griffen owned him [Sunday]. He steamrolled Anthony Collins. He looked like Chris freaking Doleman.

"And he's lazy, doesn't finish blocks, doesn't play to the whistle. He's lazy. And the problem, if you're the Buccaneers, there's nobody else behind him. So you're stuck. This is the $30 million mistake you made. And he's stealing right now from this organization. Stealing! The only thing missing from that transaction is a ski mask and a 45. Because it's highway robbery at this point. He is killing this team at this point. Killing them. Worse than Kenyatta Walker."
You can catch the full postgame tirade from TKras below. Joe suspects many Bucs fans will be shouting Hallelujah!