Bucs On Pace For Only 23 Sacks
October 27th, 2014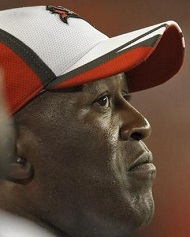 Greg Schiano's goofy, ineffective, blitz-happy pass rush last season generated 35 sacks and Tampa Bay finished with the NFL's 17th-ranked defense.
But that's old news, the new Bucs have just 10 sacks through seven games — in a defense that revolves around the pass rush.
The Vikings were allowing more than four sacks a game before yesterday's game in Tampa. Rookie QB Teddy Bridgewater dropped back 42 times and the Bucs only dropped him once.
Yes, the Bucs' pass rush is bad. The highest paid defensive tackle in football, Gerald McCoy, isn't making those around him better. Michael Johnson is having a terrible season. Clinton McDonald isn't the pass rush force the Bucs expected, especially considering McCoy draws so much attention. McCoy, himself, only has 2 1/2 sacks and is performing a shade below the All-World level he was at least season. Starting left defensive end Will Gholston is improving, and he might have played his best game yesterday. But he won't last another year as a starter without more sacks. Gholston has one through six starts after Adrian Clayborn was lost.
Now what?
This offseason, Joe seriously hopes Lovie Smith and Jason Licht are willing to swallow the fail of the Michael Johnson purchase and get another top defensive end to come off the edge. Let the new signing compete with Johnson and/or move Johnson to the left side. If Johnson is such a special athlete, he can learn a new position, like the Bucs expected from Clayborn.
Lovie himself is quick to say he won't have a special defense without a pass rush. Through seven games, Johnson is the weakest link.
As for that pace of 23 sacks, that's the total the Bucs had in 2011, when Raheem Morris was booted following a four-win season.