"Schoolin' My Soldiers"
October 24th, 2014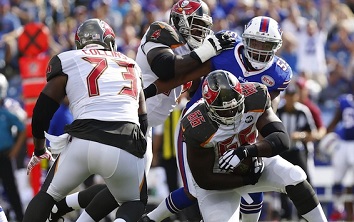 Too much has been made about how Leslie Frazier's knowledge of some Vikings personnel might be able to help the Bucs. Rarely will something like that materialize into a true positive.
However, left tackle Anthony Collins' intimate knowledge of the Mike Zimmer defense the Vikings employ, that's more worthwhile.
Collins, as a member of the Bengals, lined up for years across from that defense in practice and training camp. It's familiar to him, and that means he'll have — and has — excellent recognition of what might be coming his way, as well as at his linemates.
This week, just call him Professor Collins.
"I played against that for six years. I know the ins and out of that. Schoolin' my soliders about a Mike Zimmer defense was fun this week," Collins told Joe yesterday. "And we'll be ready to play Sunday."
As for talking about what has ailed the Bucs' offensive line, Collins won't go there. He's following what he called a Lovie Smith edict.
"Word is we're not looking back. We gotta look forward. So we can't talk about nothing," Collins said. "We can't talk about nothing in the past. Coach is sticking to that."
Joe went on to advise Collins that Gerald McCoy said the Bucs defense was playing soft, and Joe asked Collins whether he thought that applied to the offense at all.
"Can't look backwards. Gotta look forward. So we'll be playing physical on Sunday," Collins said.
More physical?
"Physical. Physical. We're physical now. We were physical before. Now that's a great answer," Collins said with a smile.