Pump The Brakes On Charles Sims
October 29th, 2014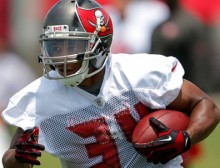 Bucs fans might want to chill their enthusiasm for the Sunday return of rookie running back Charles Sims.
Sims officially started practicing last week and he's expected to return the Bucs' 53-man roster in a matter of hours off the injured reserve/designated for return list. But the latest update from Sims isn't all sunshine.
Speaking on his Total Access show Monday night, Lovie Smith said Sims "isn't full speed yet." The head coach made it clear that Sims, while he progressed quickly after ankle surgery, is still in the normal recovery window for that injury. And Lovie strongly implied that Sims might need another week to really be ready.
Lovie also talked about how excited he is to have the offensive benefit from what Sims can do coming out of the backfield in the passing game.
Joe can't be too bummed out about this, though Joe was excited to see Sims get a chunk of work in Cleveland. Joe really got his hopes up a few weeks ago when general manager Jason Licht said Sims was "way ahead of schedule."