Lovie's Confidence Rating Drops To 36 Percent
October 29th, 2014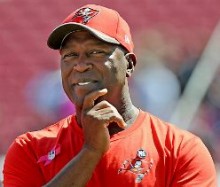 Fans should be confident in their head coach, especially when he's an established winner halfway through Year 1 of a five-year contract.
But that's not the case across the Tampa Bay area. Joe's got exclusive polling data to compare.
Back on Oct. 6, JoeBucsFan.com asked readers to grade their confidence Lovie Smith. More than 61 percent responded they either were "Confident" (35.7 percent), "Very Confident" (15.6), or "Totally Confident" (9.7) in Lovie.
Joe ran the exact same poll yesterday, and Lovie's confidence rating fell to 36 percent — "Confident" (23.75), "Very Confident" (7.36), "Totally Confident" (5.17).
So what happened in a few weeks to plummet fans' faith? Joe suspects embarrassing home performances sandwiched around a bye week did the trick.
Fans will believe in a coach for a long time if his team plays hard and disciplined football. But they'll jump ship the minute they smell weakness and incompetence. Sadly, that scent is making the rounds.
Joe hopes Lovie can make changes to win back the legions of fans in his corner just a few weeks ago.