Playing Himself Out Of A Job
October 26th, 2014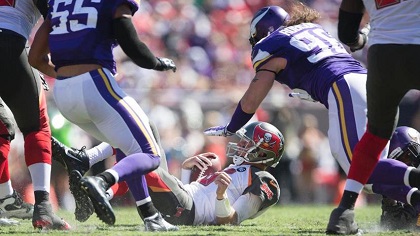 The Mike Glennon Mob is disbanding faster than the Doug Martin bandwagon.
Glennon led a terrible, 32nd-ranked Bucs offense last year and, after a couple of strong starts this season, is again leading a woeful offense reaching devastating levels of impotence.
Glennon's grand audition, a chance to show Bucs fans and the Lovie Smith/Jason Licht regime that Tampa Bay can win with the fourth best quarterback in the NFC South, is failing.
Today, Glennon took a big step backwards. His dreadful early interception was bad on two levels. First, Mike Evans was wide open with a step on his defender while Glennon rolled right and seemed to look right at him. But Glennon didn't throw it. When he finally tossed the rock, Evans was covered and Glennon threw short.
Second, Glennon's lack of mobility was stunning today. On one play, Glennon pump-faked the left defensive end coming at him. The LDE bit on the fake and jumped, came down, recovered, and tackled Glennon from behind as Glennon tried to escape.
Then there was the fantastically ugly scramble by Glennon. He ran for the sidelines on third down and ran out of bounds inches short of the first down marker without making an effort to move the chains. It was a either a total brain fart, or a weak-duck moment that never would have from a warrior like Jeff Garcia.
There were other sad moments, as well.
Of course, there's that little matter of the Bucs getting shut out in the first half — another slow start.
Assign Glennon any level of blame you wish, but he will be held accountable. He's rapidly playing himself out of starting job in 2015.