Michael Johnson Vs. The Undrafted Rookie
October 10th, 2014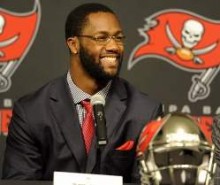 Joe sure hopes Sunday's game against Baltimore ends with fans evoking comparisons of Michael Johnson to Simeon Rice, rather than a bowl of black beans and rice.
Starting at left tackle for the Ravens is undrafted rookie James Hurst.
Hurst will be thrust into his third career start, filling in for injured Eugene Monroe. The rookie out of North Carolina wasn't good last Sunday against the Colts.
So will Johnson step up and earn his fat paycheck?
Lovie Smith advised more than a week ago that Johnson has an ankle issue that likely will trouble him all season, yet Johnson played 80+ snaps in New Orleans and was invisible. If he's hurt, then why is he on the field so much? Is there not a healthy backup that can get reps and outperform Johnson at times and keep him fresher?
It's unclear on what's happening there.
However, Joe assumes Johnson will get plenty of playing time Sunday, and that means he absolutely has to win a majority of the battles again Hurst. And it's not like Hurst is likely to have a world of help. Ravens left guard Kelechi Osemele also has injury problems, and may not play. The rest of the Ravens' O-line should have it's hands full with Gerald McCoy, and hopefully others.
If Johnson can be effective, then the Ravens will have to go into more of a max-protect mode, which will limit their offense. If not, well, then Johnson will leave Bucs fans wondering exactly what Tampa Bay purchased in March, or why it wasn't prudent to sit Johnson so he has extra time to heal entering the bye week.