Michael Johnson: A "Success Story"
October 22nd, 2014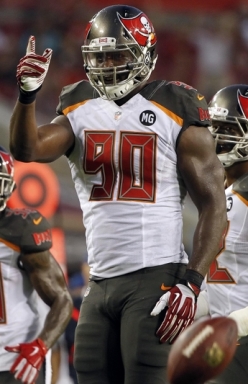 Right now, when Bucs fans broil in the sun at the Stadium on Dale Mabry Highway, they just slam their souvenir beer cups on the concrete floor of the stadium in disgust when they watch opposing quarterbacks loft passes without a Bucs jersey in the same zip code.
It has become a long-standing Bucs tradition.
Though it hasn't boiled over yet, there is a bubbling irritation with first-year Bucs defensive end Michael Johnson.
The $24-million-guaranteed man came to the Bucs with the expectation of bringing heat off the edge. So far Johnson has brought little. He had two sacks against Pittsburgh (one where he wasn't blocked), his sack total for the season. To be fair, Johnson injured his right ankle early in the season opener against the Stinking Panthers.
For Bucs fans, Johnson has failed. Vikings coach Mike Zimmer, Johnson's coordinator at Cincinnati, spoke otherwise during his teleconference with the Tampa Bay pen and mic club this morning.
"I have a lot of admiration for Mike, that's No. 1," Zimmer said. "He was a guy that we drafted in the third round, had tremendous ability, intelligence and unbelievable character and he was really one of the great success stories in my coaching career as far as where he was able to go and the things he was able to do. I know that he's had that injury that's nagging him, but I'm sure he's much better and healthy this week with the time off that he had. He's a good kid and he'll continue to do what's best, not for Mike, but what's best for the team.

"I think [the Bucs] defensive line is excellent with Gerald McCoy [who] could be the best three-technique in the NFL and obviously I like Michael Johnson a lot."
Whatever pixie dust Zimmer used on Johnson Joe sure hopes he tells Lovie. After the game will be just fine.
Look, the Bucs — even Johnson — will tell folks, hey, everybody is dinged up this time of the year. While Joe is willing to accept Johnson is less than 100 percent, the Bucs cannot have it both ways. If Johnson's injury is hampering him this much, either get him off the field or fess up that he may have been a major misfire in player evaluation.
Or bribe Zimmer to find out how he got Johnson to be a feared pass rusher.