Lovie's Unhappy With Physicality
October 22nd, 2014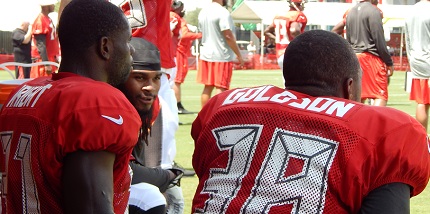 The Bucs are too soft. That's not Joe complaining, it was the sentiment expressed by Lovie Smith this afternoon at One Buc Palace.
Heck, Lovie wasn't even asked if the team was lacking manliness.
In response to a question about the expected return of Dashon "Hawk" Golson on Sunday, Lovie shared his enthusiasm for what Hawk might bring.
"He's one of our best players. Yeah, we haven't been as physical as I'd like us to be, as we would like to be," Lovie said. "He's a physical player, leadership, experience, all of the above."
Remember that "mentality" Lovie lectured players about when they returned from the bye week, now it's awfully clear to Joe that, in part, he challenged them to man up and stop getting outworked, out-willed and beaten down like inferior competitors.
Perhaps Hawk will be unchained and given the nod by his head coach to deliver an old-school hit without fear of consequences by the flag-football-loving referees? Maybe Lovie would sanction that behind the scenes to inspire the defense.