McCoy: It Has To Be Fixed Now
October 5th, 2014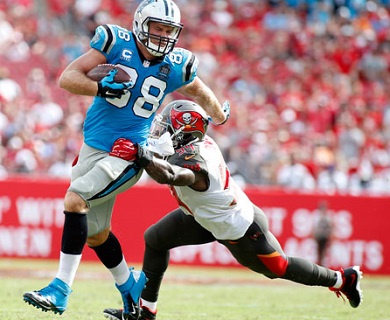 Gerald McCoy took on answering arguably the biggest question facing the Buccaneers' defense all season.
There is no more room for failure, says No. 93.
Of course, Joe's referring to the Bucs' apparent allergy to covering tight ends.
Speaking on the Buccaneers Radio Network recently, McCoy was asked about the weekly trouble.
"Well, there's always some holes in the Tampa-2 defense," McCoy said. "And, you know, sometimes guys get out of place with switching. Sometimes we're in man and sometimes we're in the zone, and guys just have to be in the right zone. They have to get over sooner. Sometimes there's some shifts and motions where guys have to switch their assignment or switch the zone they're in. And sometimes, you know, we get out of place. It's something we know we have to fix definitely going into the Saints. Playing Jimmy Graham, it has to be fixed; it has to be fixed now."
As Derrick Brooks warned fans, as did Warren Sapp, there is a learning curve to Lovie's old school Tampa-2 defense. And it's steeper and more exposed when the pass rush in inconsistent.
Joe's confident the Bucs will need that quick fix McCoy is referencing, in order to keep the Saints under 28 points today.