McCoy: Guys Were Out Of Place
October 9th, 2014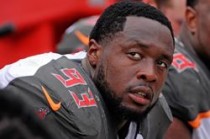 One could argue the Buccaneers' pass rush only showed up for one strong half of football this season — the first 30 minutes in Pittsburgh, when Tampa Bay recorded five of its nine sacks this year.
That's a little harsh, but Gerald McCoy might agree.
Today, McCoy spoke at One Buc Palace about how sacks are all that matter, not pressures.
But McCoy dove deeper and explained how the pass rush is out of sync.
"We gotta get [the quarterback] on the ground. We definitely do. One thing we didn't do [Sunday] that we did in Pittsburgh, is rush as a unit. A lot of times guys were out of place. I mean, you flush a guy to a certain spot and there's supposed to be a guy there waiting and, you know, he's out of place," McCoy said. "That was on the right side and the left side, both sides of the line all the way across the board. So we just have to rush better as a unit. We are getting better. Pressures and hits on the quarterback is great, but we've got to get him on the ground."
Warren Sapp and Derrick Brooks would probably call this growing pains for players learning a new defensive system. But Joe's really getting sick of all this pain.
First it was the Jim Bates Experience, which was scrapped midway through 2009. Then it was Raheem Morris' run defense that literally never showed up to complement the pass rush of Stylez White. And then there was whatever defensive feces Greg Schiano trotted onto the field, featuring nearly the worst pass defense in league history that didn't need Michael Bennett's help.
Enough already!
You can enjoy all of McCoy's media chat today via the 620wdae.com player below.