Lovie's Talking Mentality
October 20th, 2014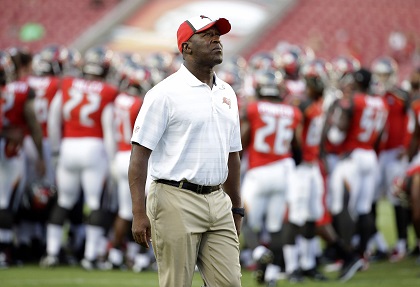 Gerald McCoy held court with the Tampa Bay pen and mic club this afternoon and shared that Lovie Smith's post-bye address focused a lot on mentality.
McCoy wasn't specific but made it clear Lovie talked about players delivering an intensity that's been lacking consistently.
Joe asked McCoy whether that message applied to him. McCoy said it did — to a point.
"That's a good question, man. At times. At times. I think I've had the right mentality all season, but there's times where I've had lapses," McCoy said. "Clearly, since our defense is where it's at, our record is where it's at. Everybody across the board has had lapses.

"But as far as my mentality goes, it's been in the right place."

"For what [Lovie] named, I feel like my mentality has been in the right place."
Joe talked to defensive end Will Gholston about Lovie's message, and Gholston said he's applying it to doing more on and off the field — from advance film study and practice, to little things like preparation and not repeating old mistakes.
Yes, there was a lot of accountability talk in the Bucs' locker room today. An historic beating and a weekend off leads to soul searching.