Lovie Talks Softness, QB Reps, "The Big Picture," Hawk Reality, David Love & More
October 23rd, 2014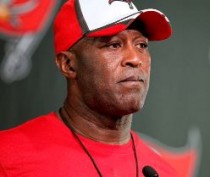 As usual, the leader of Lovieball, Lovie Smith, took questions this afternoon from the podium at One Buc Palace.
Lovie actually was eager to talk about his QB situation, though the chatter did remind Joe of his favorite James Brown song.
Little was revealed on that front other than Josh McCown's improved health is a good thing.
Lovie also dove into many topics including "the big picture," which Lovie says is that his team is only a couple of games out of first place in the NFC South.
You can listen to Lovie below: